Ceramic Honeycomb Catalyst Honeycomb Ceramic Substrate (Used In Vehicle)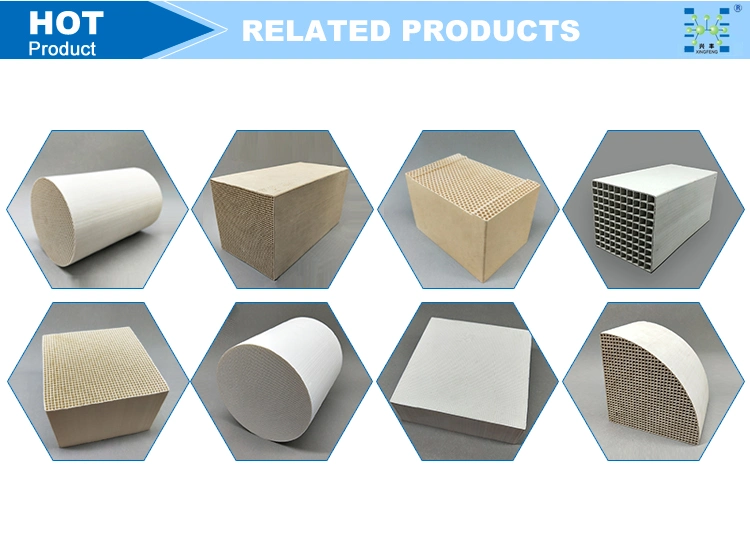 Description:
The catalyst carrier is mainly used in the automotive and other high-temperature process exhaust. The main material is cordierite, after coated the catalyst, catalytic conversion of the exhaust, so as to achieve the national emission standards. It has characteristics of large surface area, small expansion coefficient, high strength, high water absorption, and good matching with the catalytic active component, heating up fast and
so on.
Characteristics
:
Large specific surface area: to ensure full access to the exhaust gas with the catalyst;

Stable water absorption: to ensure the catalyst evenly firmly attached to the surface of the catalyst carrier;

Warm-up: after

start-up

the engine, the temperature of the carrier can reach the catalyst activation temperature in the

shortest possible time;

Low exhaust resistance: the engine's exhaust resistance is small, to ensure that doesn't affect the engine performance;

High strength: the operating environment of the catalyst carrier is in the bumpy car, so the catalyst carrier must be high strength without being external damage;

Good assembly: the carrier is an exhaust assembly parts, only good appearance and precise dimensions can ensure perfect assembly.
Technical Data Sheet:
Name

index

Tolerance Range

Wall Thickness

0.17mm

0.03mm-0.02mm

Volume Weight

≤460G/L

±60G/L

Outside Dimension

25-100mm

±1mm

100-15mm

≤±1%

Perpendicularity

≤1.0%(height)

Depth of parallelism

≤1.0%(height)

mesh number

200mesh, 300mesh, 400mesh
Physical and Chemical
Properties:
Name

Unit

Index

Chemical Composition

Al

2

O

3

%

35.1

±

1.6

MgO

%

13.5±1.5

SiO

2

%

50.0±1.8

Compression Strength

A-axis

Mpa

≥15.0

B-axis

Mpa

≥3.0

C-axis

Mpa

≥0.15

Coefficient of Thermal Expansion (20-800ºC

)

ºC

≤

1.5*10-6

Soften temperature

ºC

≤

1410

Thermal Shock Resistance

ºC

≤

550ºC

Water-absorbing rate

%

24±4%

Cordierite Crystal Content

%

≥90

Open area

%

≥70%
Catalytic Principle:
Using the noble metal catalyst which coated on the carrier, catalyze the harmful gases such as HC, CO, NOx, etc. at a suitable temperature, to make the reaction between three kinds of harmful gases, the reaction equation is as follows:
2CO+O
2
=CO
2
2C
2
H
6
+7O
2
=CO
2
+6H
2
O
2NO+2CO=N
2
+2CO
2
Packages: