Products Introduction of RTO Heat Exchange Honeycomb Ceramic
Honeycomb ceramic regenerators enhance efficiency, save energy, increase output and improve quality, an important and effective measure when dealing with energy and the environment. They're applied on thermal equipment for energy saving within industry. The pores of the Honeycomb ceramic regenerators are square and hexagonal, and the channels of pores are straight and parallel to each other.
This structure reduces the resistance of passing air and enhances the heat exchange efficiency of every channel.
Functions of RTO Heat Exchange Honeycomb Ceramic
1. Reduce the thermal loss of exhaust gas, and improve the efficiency of fuel to save energy as.
2. Enhance the burning temperature based on theory, improve the atmospheric burning, meet the high temperature of thermal equipment enlarge low calorific value fuel, especially the application range of blast furnaces, improve the efficiency of calorific value fuel and reduce the emissions from low calorific value coal gas.
3. Improve the terms of heat exchange in hearths, increase the output of equipment, enhance the quality of products and cut down on reinvesting in equipment.
4. Reduce the exhaust emission of thermal equipment, alleviate the air pollution and improve the environment.
Characteristics of RTO Heat Exchange Honeycomb Ceramic
The characteristics of the honeycomb ceramic regenerator are as follow: they have low heat expansion, high specific heat capacity, high specific surface area, low pressure drop, low thermal resistance, good thermal conductivity, thermal shock resistant and much more. So, in metallurgy and chemical industries, it's used as HTAC, while we combine recycling the heat of the emissions, high efficient combustion with reducing NOx. It becomes a true energy saver and decreases Nox.
Materials: Alumina, Dense Alumina, Cordierite, Dense Cordierite, Mullite, Corundum Mullite and others.
Specifications: 100x100x100, 100x150x150, 150x150x150, 150x150x300mm and others.
Hole count: 25x25, 40x40, 43x43, 50x50, 60x60 and others.
Chemical analysis of RTO Heat Exchange Honeycomb Ceramic
Comosition

Value(%)

Al2O3

55~65

SiO2

25~35

MgO

1~5

Fe2O3+TiO2

3~5

Others

<5

Index

Unit

Value

Density

g/cm3

1.7~2.0

Coefficient of heat expansion

(X10-6K-1)(20-800ºC)

≤3.0

Specific heat

(J/Kg.k)(20~1000ºC)

900~1150

Thermal conductivity

(20~1000ºC)

1.2~1.8

Impact thermal resistance

(ºC/min)

≥350

Max.working temp.

ºC

1320

Water absorption

%

15~25
Dimension and Other Physical Properties
| | | | | | | |
| --- | --- | --- | --- | --- | --- | --- |
| Dimension | Quantity of channels | Wall thickness | Outside wall thickness | Channel width | Void section | Weight piece |
| 150 × 150 × 300 | 25 × 25 | 1.0mm ± 0.1 | 1.2mm ± 0.15 | 4.8-5.0mm | 67% | 4.0-5.0kg |
| 150 × 150 × 300 | 32 × 32 | 0.9mm ± 0.1 | 1.2mm ± 0.15 | 3.8-3.9mm | 61.6% | 4.6-5.6kg |
| 150 × 150 × 300 | 40 × 40 | 0.7mm ± 0.1 | 1.1mm ± 0.15 | 2.9-3.1mm | 64% | 4.7-5.7kg |
| 150 × 150 × 300 | 43 × 43 | 0.65mm ± 0.1 | 1.1mm ± 0.15 | 2.7-2.9mm | 62% | 4.8-5.8kg |
| 150 × 150 × 300 | 50 × 50 | 0.6mm ± 0.1 | 0.8mm ± 0.15 | 2.3-2.5mm | 61% | 4.8-5.8kg |
| 150 × 150 × 300 | 60 × 60 | 0.45mm ± 0.1 | 0.8mm ± 0.15 | 1.9-2.1mm | 63.4% | 4.7-5.7kg |
| 100 × 100 × 150 | 26× 26 | 0.8mm ± 0.1 | 1.2mm ± 0.15 | 3.0-3.3mm | 61% | 1.3-1.8kg |
| 100 × 100 × 150 | 33× 33 | 0.7mm ± 0.1 | 1.1mm ± 0.15 | 2.3-3.6mm | 57% | 1.3-1.8kg |
| 100 × 100 × 100 | 13× 13 | 1.0mm ± 0.1 | 1.1mm ± 0.15 | 6.3-6.5mm | 57% | 0.8-1kg |
| 100 × 100 × 100 | 20× 20 | 1.0mm ± 0.1 | 1.1mm ± 0.15 | 3.4-3.6mm | 57% | 0.8-1kg |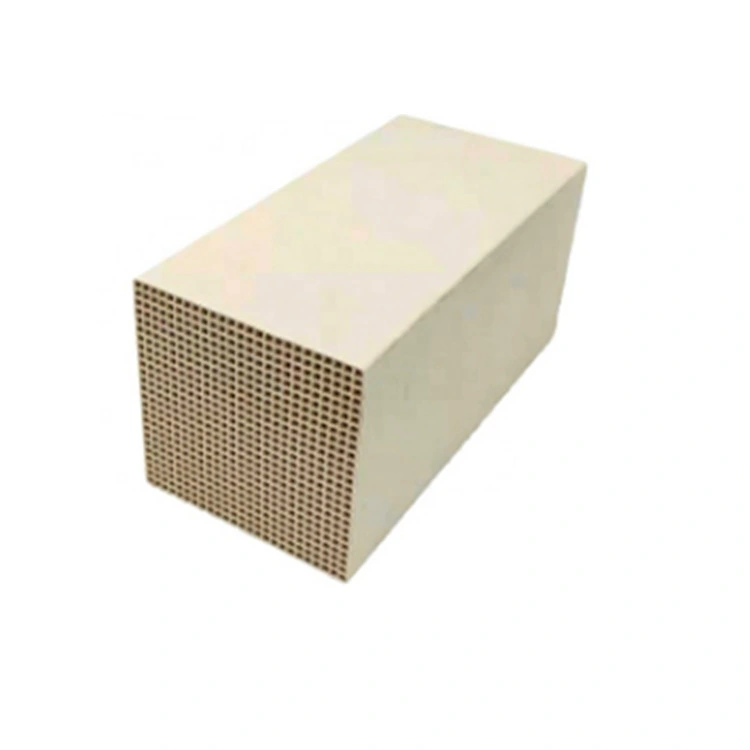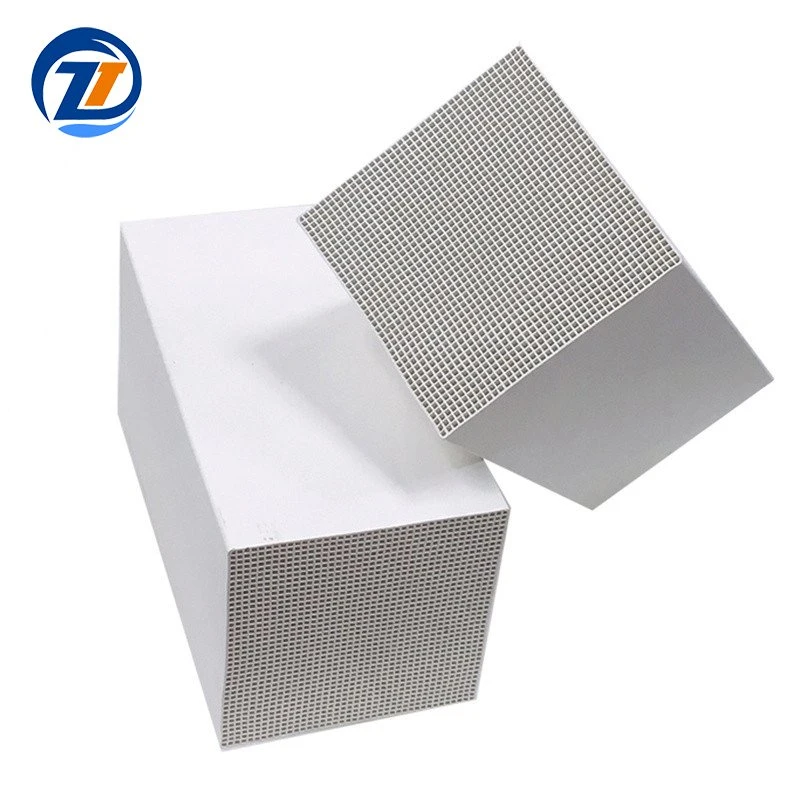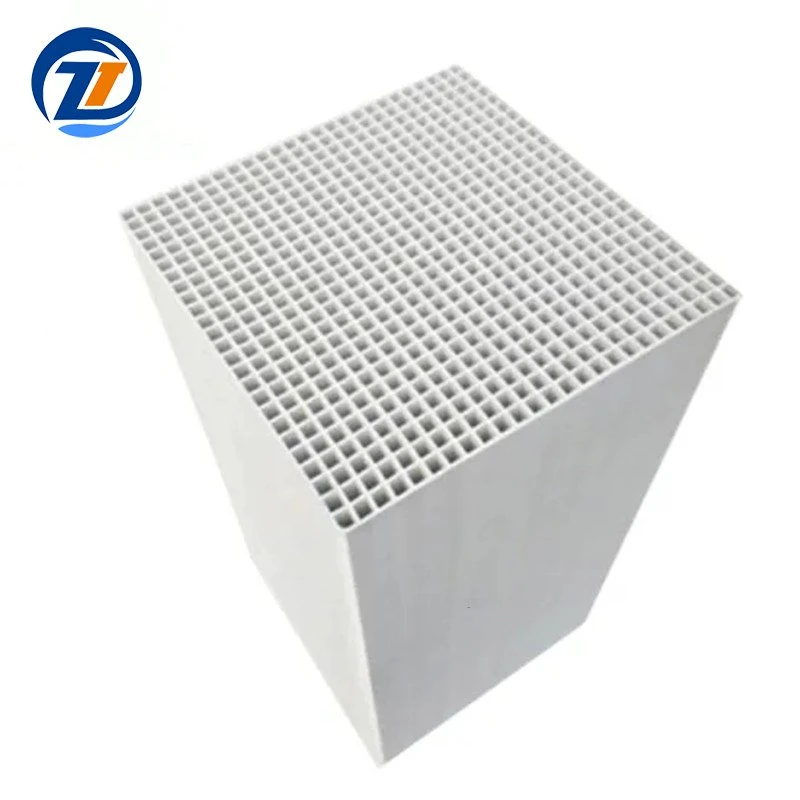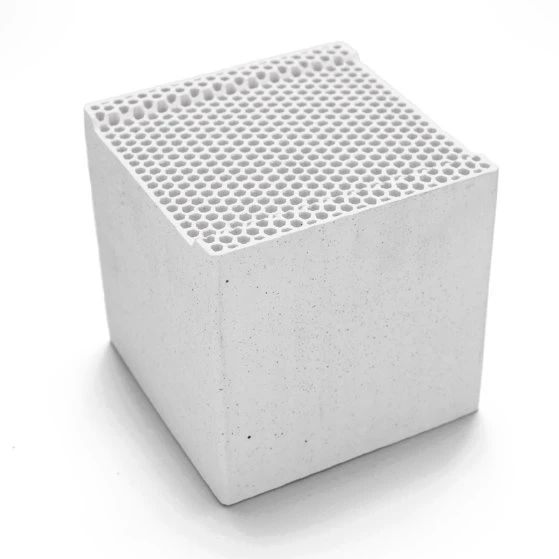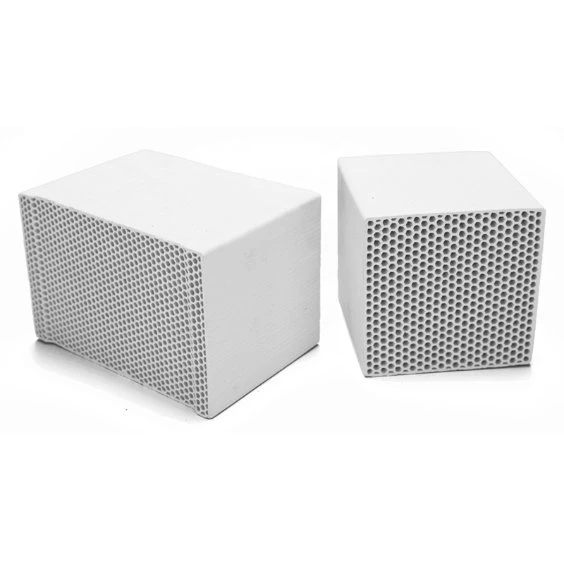 Production Process

Packaging Display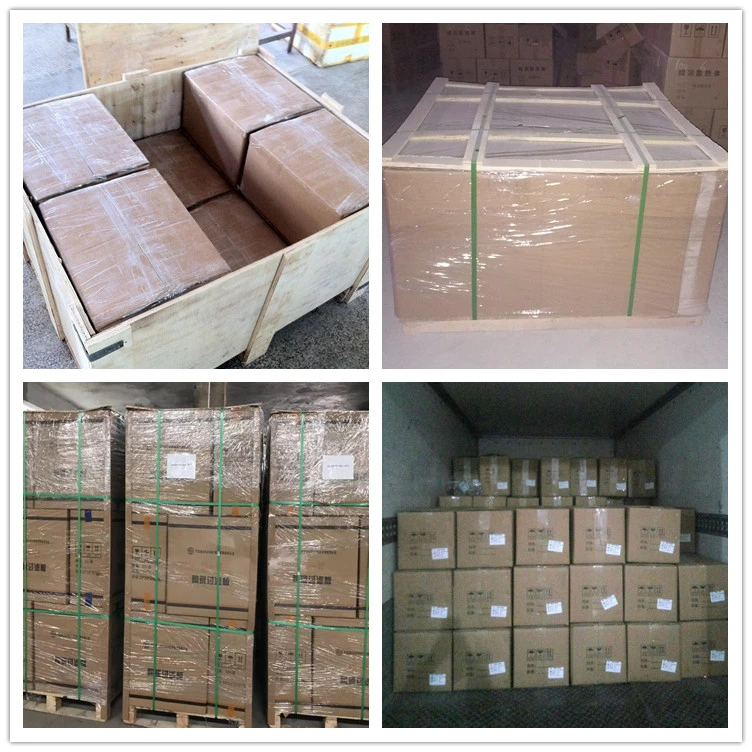 Certificate Display

Factory Dislplay