Wear-Resistance Ceramic Patch or Lining Plate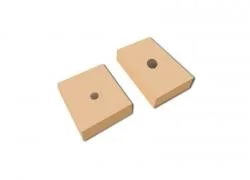 Application
E
xamples of
W
ear
-R
esistant
C
eramics in
C
ement
I
ndustry
Application Equipment System

Anti-Wear Application Parts

Limestone crushing and raw fuel pre

-

homogenization system

Blanking chute, hopper and belt roller, etc

.

Raw meal vertical mill system

Feeding chute, sealing rings of roller, guide vane of separator, vertical mill cyclone, pipeline, etc

.

Coal mill system

Separator shell, pulverized coal pipe, return pipe, etc

.

Rotary kiln system

I

nlet and outlet elbows of humidifying tower, pipe from grate cooler to electric dust collector, vertical coal mill pipe of grate cooler, cyclone, electric dust collector grid plate, blanking chute of clinker elevator, etc

.

Cement grinding system

Vertical mill, roller press, V-type separator feed chute, separator shell, circulating fan impeller, shell, cyclone, inlet and outlet elbow, pipe and inner wall

.
Wear
-R
esistant
C
eramic
L
ining
A
pplication
I
ndustry:
Steel industry:
Feeding system: bucket wheel, disc, hopper, bin, belt conveyor apron, trolley tee bucket, receiving hopper
Proportioning system: mixing silo, primary mixing cylinder, secondary mixing cylinder, mixing disc, mixing drum, scraper, pelletizing disc, sintering system: beneficiation hopper under vibrating screen, raw material transportation chute, cyclone dust collector and pipeline, fan impeller
Cement industry:
Limestone crushing system and raw fuel pre homogenization system: chute, hopper, belt roller
Raw mill system: separator guide vane, separator cone, pipe from vertical mill to cyclone, cyclone, fuel mill (steel ball mill), separator shell, inner cone and pulverized coal pipe
Fuel mill (steel ball mill): separator shell, inner cone, pulverized coal pipe and return pipe
Port industry:
Fixed hopper of berth, fixed hopper of bucket wheel machine, fixed hopper of belt conveyor transfer station and hopper of ship unloader
Smelting industry
Conveying system: head chute, silo (middle silo, tail silo), vibrating screen, material trough, coke hopper, metering hopper
Batching system: batching hopper, primary (secondary) mixer
Roasting system: single bin pump, calcine pipe, batching hopper, ash hopper, intermediate bin hopper
Chemical industry:
Feeding system: hopper, bin
Dust removal system: dust removal pipe, elbow, fan casing and impeller, cyclone
Coal industry:
Coal handling system: chute, hopper, bin
Coal washing system: pressurized cyclone, non pressurized three product dense medium cyclone, non pressurized four product dense medium cyclone, concentration cyclone group
Conveying system: pipe, elbow, pipe, hopper, bin, distribution port
Mining industry:
Conveying system: hopper and silo