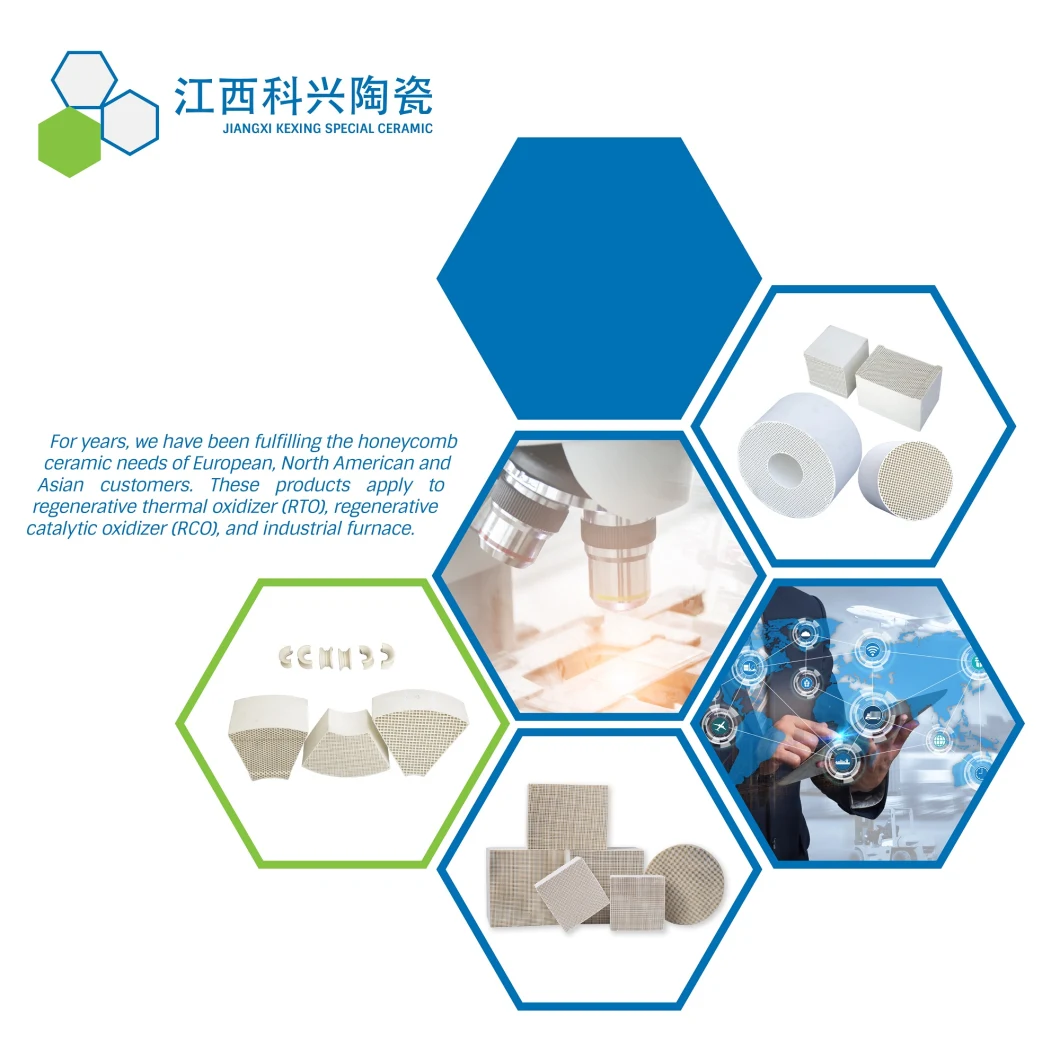 > Honeycomb Ceramics
The HTAC technology (High Temperature Air Combustion) is a huge energy-saving and environmental efficacy of new combustion technology and it is also considered as a reliable, industry proven combustion method allowing emissions reduction, combustion process improvement, thermal field flattening and heat transfer increase in high temperature energy intensive applications.
Honeycomb ceramic heat recovery media is a key component of regenerative burner, which is widely used in iron and steel, machinery, building materials, petrochemicals, nonferrous metal smelting and other industries, furnace, hot air furnace, heat treatment furnace, cracking furnace, baking, melting furnace, both in the hot furnace, oil and gas boilers, and furnaces. The technique is to make two ceramic media beds alternating endothermic exothermic by reversing device. Most common applications include: RTO, (RCO), metal casting combustor, metal melting industrial furnace, etc.
Compared with other ceramic media which have conventionally been used in RTOs. The advantages of honeycomb monolith include a greater thermal efficiency and a lower pressure drop across the heat exchanger bed. The increase in thermal efficiency and lower pressure drop generally results in smaller equipment design, lower capital cost and lower operating cost. Honeycomb ceramic serves as a more efficient alternative for the following reasons: cutting fan load for significant energy saving (low pressure drop owing to straight channels), less volume, thin wall thickness, faster in thermal exchange. Lighter weight, so less structural support is required. Above all, High specific surface area means high conversion efficiency in converters occupying small volumes. All these benefit, especially larger specific surface area make honeycomb ceramic the better performance media across industries.
> Honeycomb Ceramic Monolith, Substrate, Baffle Bricks, Heat Storage Balls and Saddles
Compared with traditional combustion technology, our green, energy-saving high-temperature air combustion (HTAC) system can reduce fuel intake between 20%- 50%. Productivity is also improved as oxidation burning less is reduced by 20% and NOx emission is decreased by over 40%. The honeycomb ceramic regenerator has the following advantages: high heat exchange per unit volume, quick heat transfer, small airflow resistance, small heat penetration depth and high thermal efficiency.
Our electrocast chrome corundum is synthesized at over 2000 °C, producing high quality honeycomb ceramic regenerators, baffle bricks and heat storage balls. This allows the advantages of high refractoriness under load, slag and shock resistance and quick heat transfer to take place. These products also have the ability for good anti-scouring, heavy volume weight and large heat capacity.
Our technology also addresses common problems such as blocking, melting, slagging, cracking or stripping which translates into a longer service life. In addition, our catalytic combustion occurs between the added catalyst and the CO and HC compounds at 600C which further improves the recovery of waste heat and reduces the emission of polluted gas.
> Materials
Alumina Ceramics
Alumina Ceramics is the most widely used advanced ceramic material. Owing to its highly strong ionic inter-atomic bonding, alumina offers good performance in terms of chemical and thermal stability, relatively good strength, thermal and electrical insulation characteristics at a reasonable price. With a range of purities and also the relatively low cost in raw material production it is possible to utilize alumina for wide ranging applications across a variety of different industries.
Mullite Ceramics Alumina
Mullite occurs very rarely in nature because it only forms at high temperature, low pressure conditions, so as an industrial mineral, mullite has to be supplied by synthetic alternatives. Mullite is a strong candidate material for advanced ceramics in industrial process for its favourable thermal and mechanica properties: low thermal expansion, low thermal conductivity, excellent creep resistance, suitable high temperature strength and outstanding stability under harsh chemical environments.
Dense Alumina & Dense Cordierite
Low water absorbtion (0-5%)
High density, High heat capacity
Large specific surface area, greater thermal efficiency
Strong anti-acid, anti-silicon, anti-salt. Low block rate
Silicon Carbide Ceramics
Silicon carbide is notable for its hardness, high melting-point and high thermal conductivity. It can retains its strength at temperature as high as 1400 °C and offers excellent wear resistance and thermal shock resistance. It has well-established and wide-spread industrial applications as catalyst supports and hot-gas or molten metal filters because of its low thermal-expansion coefficient and good thermal-shock resistance as well as excellent mechanical and chemical stability at elevated temperature environments.
Cordierite Ceramics
Cordierite has a superior thermal shock resistance due to their intrinsic low coefficient of thermal expansion (CET), coupled with relatively high refractoriness and high chemical stability. Therefore, it is often used as high temperature industrial applications, such as: heat exchangers for gas turbine engines; honeycomb-shaped catalyst carriers in automobile exhaust system.
Zirconia Oxide Ceramics Corundum
Ceramics Zirconia can be an ideal material of high-strength and high-toughness when proper compositions, such as: magnesium oxide (MgO), yttrium oxide, (Y

2

O

3

), or calcium oxide (CaO), are added to control an otherwise destructive phase transformation.The micro structural features of zirconia ceramics also make it an engineering material choice of wear and corrosion resistance, damage and degradation tolerance in a wide range of applications.
Corundum Ceramics
1, high purity: Al

2

O
3
> 99%, good chemical
resistance
2, temperature resistance, long-term use a
t 1600 °C, 1800 °C short-term
3, thermal shock resistance and good
resistance to crack
4, slip casting, high density, high purity
alumina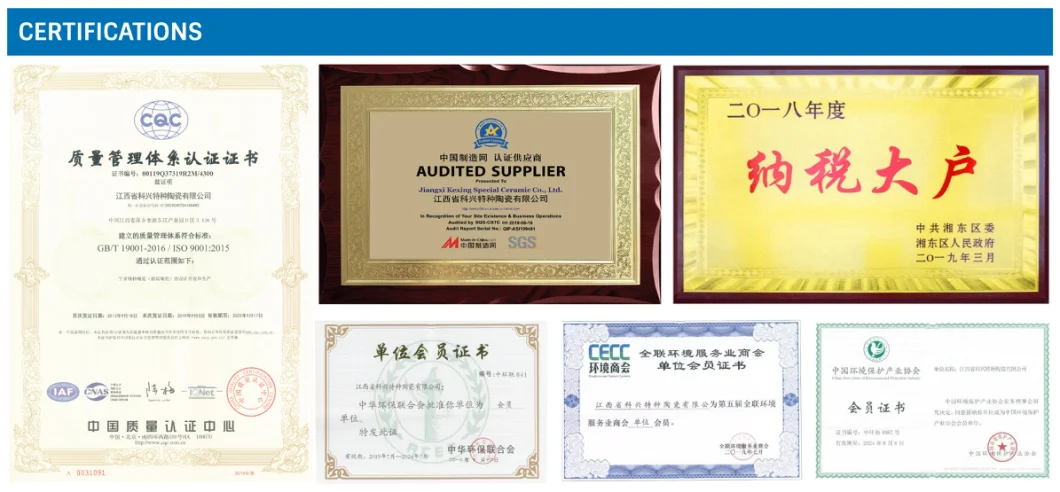 FAQ
Q: Are you trading company or manufacturer?
A: We are factory

Q: Factory visiting available?
A: Yes, you are welcome to visit our factory

Q: OEM service provided?
A:Yes

Q: Your product certifications?
A: ISO 9001, SGS

Q: How do I pay for my purchase order?
A: We accept T/T & L/C

Q: What is the lead time?
A: 15-30 days after first payment

Q: Dose your company accept customization?
A: Yes, we customize all products and materials to individual customer need and specifications

Q: Do you provide samples ? Is it free or extra?
A: Yes, it is free