High Alumina Ceramic Substrate From Al2O3 Ceramic Manufacturer
High alumina ceramic welded tile with hole provide excellent abrasion and impact resistance for industrial friction equipment. frequently.
Used as wear liner for hopper, cyclone , Chute ,separator, bunker, impellers and agitators, fan blades and fan casings, chain conveyors, mixers ect, Typical markets include grain, coal-fired power generation, mining, cement, and more. it is easily welded installation to machine no matter extremely high or low temperature working environment, also best wear resistant choice for dynamic operation equipment.
>> Product features
1)
High hardness
2)
Superior abrasion resistance
3)
Corrosion and chemical resistance
4)
Light weight
5)
Can be applied in all kinds industrial abrasion solution field
>> Welding plate installation schematic diagram(welding hole and dovetail groove, arc plate
)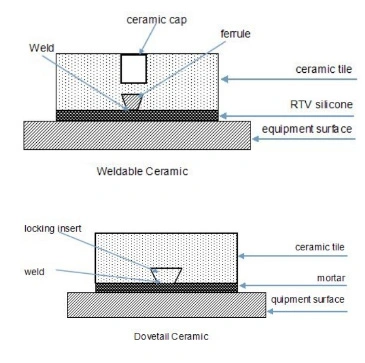 >> Size available (Length*width*thickness ) :
Pppular
Size
s
(Length*width*thickness )
100*100*20mm
150*100*13mm,
150*100*14mm,
150*100*20mm,
150*100*25mm,
150*100*48mm,
150*100*25mm
150*100*48mm
more sizes and customized size acceptable
:
Al

2

O

3

SiO

2

Ca

O

MgO

Na

2

O

92~93%

3~6%

1~1.6%

0.2~0.8%

0.1%
Specific gravity (g/cc)

>3.60

Apparent porosity (%)

0

Flexural Strength (20

ºC

, Mpa)

280

Compressive strength (20

ºC

, Mpa)

850

Rockwell hardness (HRA)

80

Vickers hardness (hv)

1050

Moh

'

s hardness (scale)

≥

9

Thermal Expansion (20-800

ºC

, x10-6/

ºC

)

8

Crystal Size (μ

m)

1.3~3.0