We have successfully developed many types of auto/motorcycle Metal Honeycomb Substrate, which are suitable for cars/motorcycle in all types and meet the strict emission standard. As customers' requests, various kinds of metal honeycomb substrate catalyst can be produced and exported to different countries. It can eliminate 90% amount of the three main pollutants (hydrocarbon, carbon monoxide and nitrogen oxide).
Auto Catalytic converter is installed on the exhaust system is the most important cake layer purification equipment, it can be the car exhaust CO, HC and NOx and other harmful gases through the oxidation and reduction into harmless carbon dioxide, water and nitrogen.
Metallic substrate should be pretreated in order to generate a transition layer which is required to solve the mismatched heat expansion between metallic substrate itself and the active layer. On the transition layer, it is coated with rare earth catalyst, while in active layer is coated with noble metal like Pt, Pd, Rh.
Major technical parameters:
Substrate: Metal honeycomb substrate (Fe-Cr-Al alloy)
Light-off temperature: CO≤ 200° C, HC≤ 200° C, NOX≤ 200° C
Coating losing rate ≤ 3%
Conversion rate: CO≥ 90%, HC≥ 90%, NOX≥ 80%
Durability: Not less than 15000 kilometers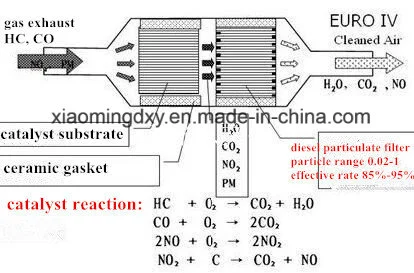 Features:
*Low thermal expansion
*High surface area
*Long-term durability performance
*Low pressure drop
*Good thermal shock resistance
*Reach different vehicles to satisfy emission standard
*Low light-off temperature
*Excellent adhesion between wash-coat and susbstrate with netty structure
*Top quality and attractive price
| | | | |
| --- | --- | --- | --- |
| Shape | Shell size(mm) | Core size(mm) | Cell density (CPSI) |
| Rotundity | Φ 30×22 | Φ 28×20 | 100/200/300/400 |
| Rotundity | Φ 35×20 | Φ 33×20 | 100/200/300/400 |
| Rotundity | Φ 35×30 | Φ 33×30 | 100/200/300/400 |
| Rotundity | Φ 35×40 | Φ 33×40 | 100/200/300/400 |
| Rotundity | Φ 35×50 | Φ 33×50 | 100/200/300/400 |
| Rotundity | Φ 35×60 | Φ 33×60 | 100/200/300/400 |
| Rotundity | Φ35 × 70/100/130 | Φ33 × 60/90/120 | 100/200/300/400 |
| Rotundity | Φ42 × 70/100/130 | Φ40 × 60/90/120 | 100/200/300/400 |
| Rotundity | Φ45 × 70/100/130 | Φ43 × 60/90/120 | 100/200/300/400 |
| Rotundity | Φ63,5 × 85/100/130 | Φ60,5 × 74,5/90/120 | 200/300/400 |
| Rotundity | Φ73 × 70/100/130 L | Φ70 × 60/90/120 | 200/300/400 |
| Rotundity | Φ93 × 70/100/130 | Φ90 × 60/90/120 | 200/300/400 |
| Rotundity | Φ100,3 × 100/130 | Φ98,3 × 90/120 | 600 |
| Rotundity | Φ144 × 150/152,4 | Φ142 × 140/142,4 | 200/300/400 |
| Rotundity | Φ190 × 200 | Φ188 × 190 | 200/300/400 |
| Rotundity | Φ420 × 100/130 | Φ416 × 90/120 | 300/400 |
| Race track | 123×63×85 | 120×60×75 | 200/300 |
| Race track | 123×63×100 | 120×60×90 | 200/300 |
| Race track | 78,5×52×104 | 76,5×50×90 | 200/300 |